What we do
We design, build & implement websites and software which will either save you time & money or make you money. Our expertise is in creating superb user experiences through thoughtful design. We believe software should be simple to use no matter its complexity.
— We

research & analyse

to understand your business problem, offer software solutions and more.
— We run user & event storming workshops to create a

strategic plan

for your online processes.
— Through

product scoping

&

prototyping

we help you rapidly test your ideas.
— We

build & implement software.

From complex bespoke web applications to off-the-shelf integrations such as Shopify, Squarespace & Statamic.
Our work
The majority of our recent work has focused on building software for Film and TV productions. Our websites have been used by all the large film studios including Disney, Warner Bros., Netflix, ITV, Channel 4, HBO and Amazon Studios.
OKCrowd
OKCrowd gives production companies confidence that on-set documentation, NDAs and T&Cs will be digitally signed before extras arrive on set.
We designed, built & continue to manage OKCrowd.
(A demo login is available for the curious)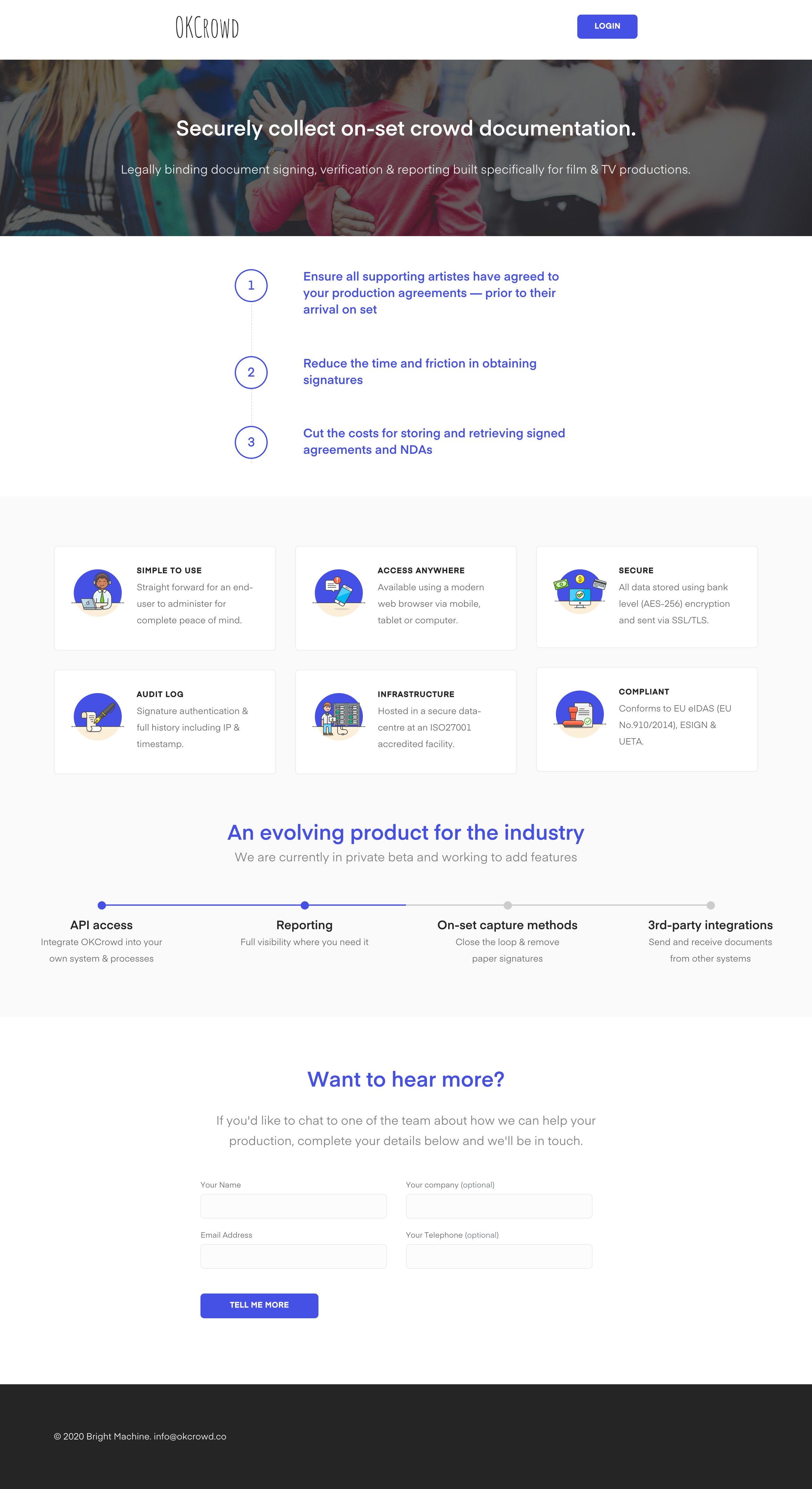 The Casting Collective is the largest TV and Film extras company in the UK. We've worked with them for many years creating web-based systems to help them manage their business.
Online Applications, Artiste Organiser & Artiste Management
We moved the entire registration process online. Previously, over a six week period each year, thousands of extras were invited into the company's London office to apply for the next year's book. The process was time-consuming and unscalable as they expanded to cover the whole country.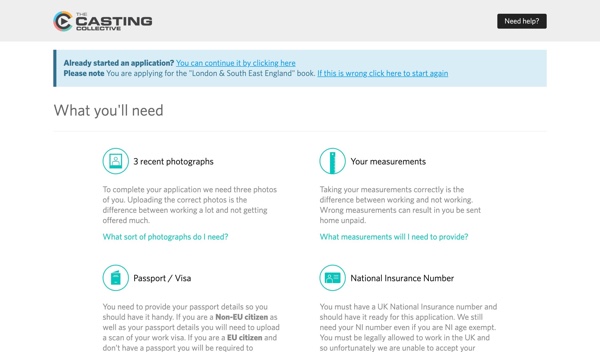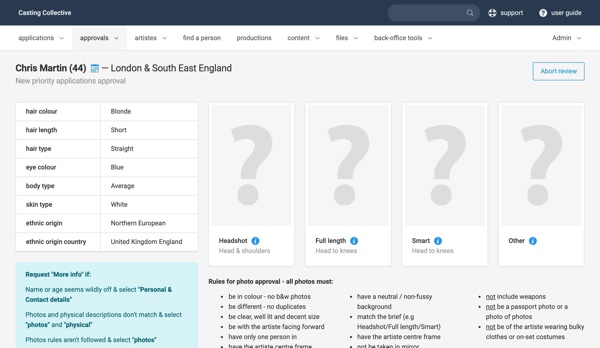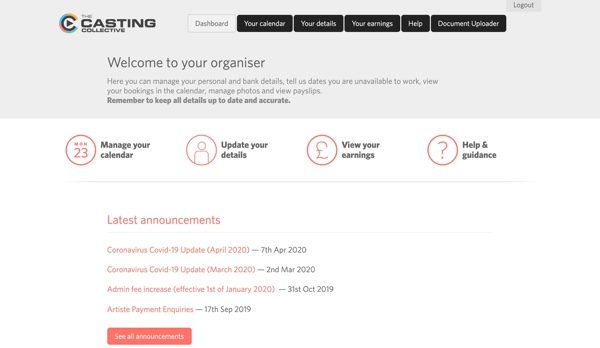 Our solution removed the need for the offline registration period. It included an in-depth standard application as well as an ad-hoc application so the team can post urgent off-book casting calls. Existing artistes also have an area to manage their calendar, view their earnings, update their details and renew.
Best renewal process of all the casting agencies by far.
We take pride in all the work we do right down to the small details. For example, of over 1500 people surveyed 99.6% said that the small snippets of help text along the way were clear and useful.
Front-end website
We didn't design the latest version of the Casting Collective front-end website. In retrospect, due to COVID-19, it now feels like a mistake but at the time we wanted to give our friends at Fresh Bread a shot and concentrate on other production related products. Below are some screens of our previous design.
Paperless Payments
The system revolutionizes how extras are managed whilst on set and how their payments are calculated and made. Our work saves agencies, productions and Assistant Directors countless hours and stress.
Bright Machine made a complex process easy to use. We are very happy with their calm and guiding input to make this achievable.
Laura Sheppard, Director
What others say
Before focusing on Film & TV production software we were fortunate to make websites for a luxury accommodation business in Australia, a large art gallery in London, a charity who worked with vulnerable women, several colleges and various e-commerce sites.
Bright Machine got actively involved in the project and took the time to fully understand our objectives. The site has received high acclaim from some of the coolest brands in the UK.
Ben Hudson, Coolbrands
Bright Machine provided a solution that has added real value to our business and impressed our customers from day one. They go beyond what is necessary.
Phil Bingham, VeloVixen
Bright Machine revolutionised the Charity's web presence whilst also helping to improve our email and marketing campaigns. This has resulted in an increase in visitors and allows us to reach all of our stakeholders on a variety of devices.
Louise Hinchcliffe, Eaves For Women
We are extremely satisfied - the product is excellent. The quality of the frontend has had a very favourable effect on our sales and the powerful functionality of the backend has resulted in our business being administered significantly more efficiently.
Darryl Leigh, Espresso Apartments
More about us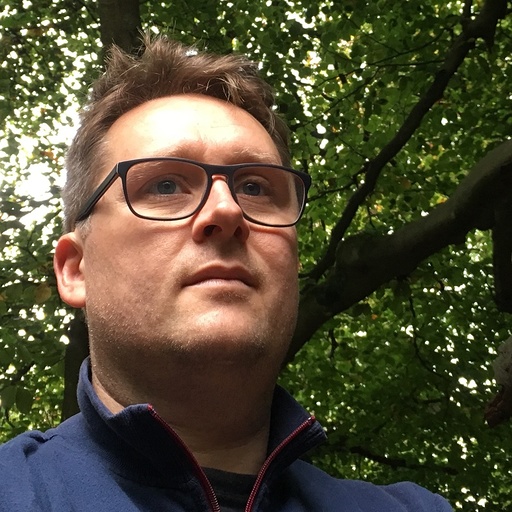 Kelvin Jones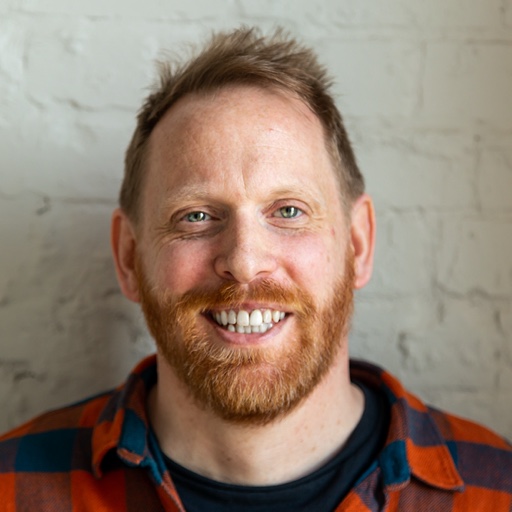 Chris Martin
Bright Machine was formed in 2011. We are based in the U.K in Cheltenham & London. We love to work with people who are truly in love with their own product, brand or business. We make suggestions not prescriptions – our focus always on what works best for you.
Our guiding principles
Our clients' business needs and processes come first.
Always be learning & remain creative and flexible in our approach.
Be opinionated and never afraid to say no.
Communicate using non-technical language.
Focus on what we're good at and in areas we are able to add value.
Our web software is built to last.